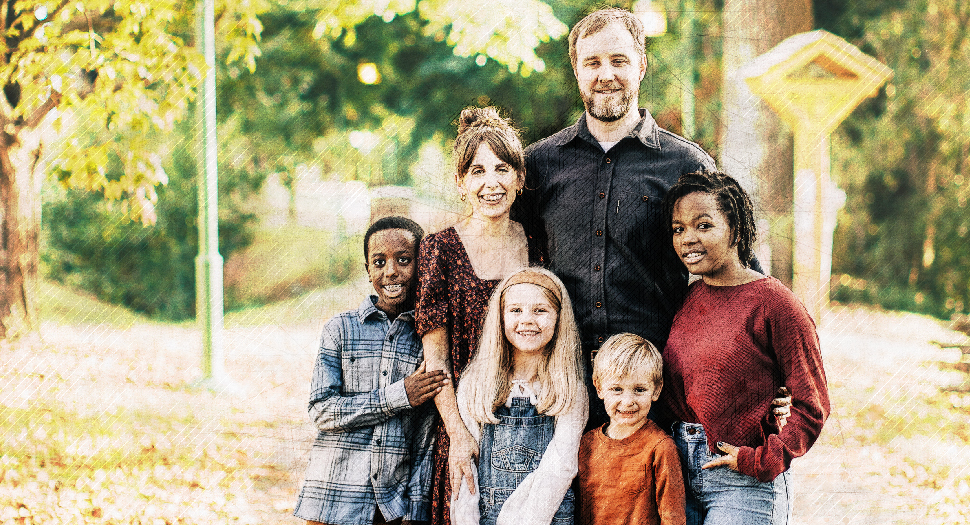 Winston-Salem, N.C.
The 2008 Paralympic silver medal is tucked away in a closet somewhere. One of these days, Jamie Dean ('05, JD '09, MBA '09) and his wife, Lauren Dean (MDiv '09), will figure out a place to display it prominently in the home so that others can see it.
The medal winner will never be among the awestruck viewers. But that's not what explains the lack of urgency. Jamie Dean simply has more important things to do.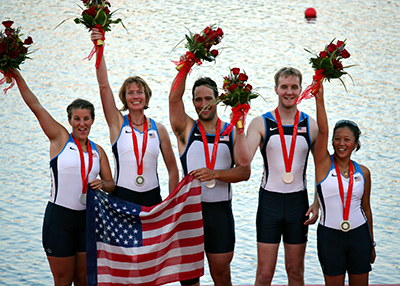 A senior corporate counsel at Microsoft, Dean advises the company's teams striving to make their products accessible to all. Blindness, a condition Dean has faced since his teens, has not stopped him. It has inspired him and — by extension — others.
"I'm not in a nonprofit, but I'm doing something that has a strong public interest focus: accessibility," said Dean, whose graduate education was facilitated by the A.J. Fletcher Law Scholarship. "I can say that having that scholarship and understanding the desire for recipients to be people of service has been embedded in me. It has shown me the importance of caring for the community in ways I might not have thought about otherwise."
---
Some of this story was inevitable. Some of it was not.
Retinitis pigmentosa is a hereditary, degenerative condition that breaks down the retina, the part of the eye that allows a person to sense light. By common estimate, RP affects one of every 4,000 people — both in the U.S. and worldwide. Almost all of those affected with RP will ultimately lose all sight.
Diagnosis is effectively an announcement that life will eventually change. For Dean, that moment came in middle school in Charleston, West Virginia. He reacted by persevering and earning admission to Wake Forest, to which he applied almost on a whim.
When he toured Wake Forest in the spring of 2001, he knew he would need some assistance. He wouldn't be able to read by sight; he would need a Seeing Eye dog.
"I was fortunate that I was able to meet with Michael Shuman of the Learning Assistance Center, and he introduced me to other folks," Dean said. "It was very clear that this was an issue that Wake Forest cared about deeply, and that is consistent with the approach to students in general — extremely student-centered, nurturing and concerned with character formation."
Once on campus, Dean became an active participant. He graduated summa cum laude in economics and served on the Board of Trustees as the student member in 2004-05 — the academic year in which the Board hired Dr. Nathan O. Hatch as Wake Forest's 13th president.
Dean also wanted to be part of a team sport. In his first year, he heard the men's rowing club team had set up a boat on what would become known as Hearn Plaza to drum up interest. Dean showed up and was heartened to learn the team's leaders were as intrigued as he was about how this could work. Rowing without sight seemed more viable than many other sports. "Come on out," they said.
"I was really bad," Dean recalled. "And by that, I mean the slowest. It was quite a climb to get strong and fast."
In the spring of 2005, after four years on the team, Dean was planning his next move and considering law school. But he had one last bit of undergraduate extracurricular business to complete.
The Wake Forest rowing club traveled to Philadelphia for a 100-school event that would, Dean presumed, be his last major competition. His life changed again when an official with U.S. Rowing noticed Dean and asked him if he'd like to learn about the burgeoning Paralympic rowing movement, which was gearing up for its first appearance in the Games in 2008.
Why not?
Dean was still getting stronger and faster in doing his job in the boat, and this was an opportunity. For the next three years, he'd chase an additional dream. But it would have to be on a part-time basis.
---
Dean wanted to remain at Wake Forest for his graduate studies. He was particularly drawn to the JD/MBA program, a four-year joint venture between the schools of law and business. But there was one problem: As a graduate student, he wouldn't be able to live on campus, and the logistics of getting from home to school were complicated.
Upon hearing of the predicament, Ken Zick, vice president and dean of student affairs at the time, helped secure Dean a spot in a house near Polo Road — very close to campus — with seven School of Divinity students.
Seldom have access and opportunity melded so well and in so many ways.
As the years passed, graduations meant turnover in the house and new roommates. Lauren Brown moved into the house. Six months later, she and Dean were engaged. They set the wedding date for the summer of 2008.
---
Dean may have been the most organized man on the planet that summer. By day, he worked a clerkship at a prominent Winston-Salem law firm. By night, he took an MBA class in order to facilitate that other venture, the one in a boat. And that rowing gig required regular training.
On a Saturday, he got married. The following Monday, he was back at work. The honeymoon would have to wait.
First, he'd travel to Beijing as a member of the United States Paralympic Team.
The competition would take place in September — three weeks after the start of the fall semester. How would he pull that one off? Wake Forest again would help make it work.
Creative planning made the difference. On the MBA side, the summer class combined with the MBA program's standard schedule, which has classes that meet for half the semester, kept him on track. Dean satisfied the law portion by taking a second-part-of-term class in the fall and loading up to an inordinate degree in his final semester.
Nobody knew exactly what to expect out of the inaugural Paralympic rowing event except that teams would consist of two men and two women. The United States was not considered a lock for a medal by any means.
As the medal race unfolded, Italy built an ultimately insurmountable lead, but the Americans made their own thrilling charge, overtaking Great Britain for the silver medal. Dean and his team had exceeded expectations.
"In our scenario, we could not have raced better," Dean said. "And we knew it."
Dean didn't need to see the events unfold to know what they meant. He felt them in a multitude of ways.
"I was excited, obviously," Dean said. "And my legs hurt. But the most poignant memory I have of crossing the finish line was this wave of gratitude washed over me. There were so many people who helped us get there.
"I thought about the former teammates at Wake Forest who rode with me at Salem Lake. I thought about the people who had donated to help me cover training expenses. And I felt so grateful to have my parents there with me."
---
Dean graduated from Wake Forest with high honors for a second time in 2009, grateful again for the relationships he had forged. Midway through his JD/MBA experience, his Seeing Eye dog Paul retired from active duty. Professor Michael D. Green adopted Paul and gave him a happy home for his final years.
Dean took a job in a Winston-Salem law firm and became one of the very few blind courtroom litigators in the country. And he was quite good at it.
He also took on pro bono work and made time for those who would not otherwise have legal representation.
"The way you treat people in the community is important," Dean said. "Using the resources that I had earned as a lawyer to support organizations and causes that are meaningful is important."
Combining his love of teaching and mentoring with his passion for legal advocacy, he also worked for his alma mater as an adjunct professor of pre-trial practice and procedure for seven years.
In 2021, those skills led him to his current job. As a member of the Accessibility Regulations Team at Microsoft, Dean is not just a legal representative of the company; he is also a customer whose experience with assistive technology and federal law inform and feed each other.
Personally and professionally, the product that Dean uses the most is screen-reading software, which converts text to speech. It sees the information that Dean types and then speaks it back to him in real time. He is charged with ensuring that screen readers and other products are compatible legally and functionally with mass-market devices.
"Our teams are under tremendous pressure to create features," he said. "Access is not an issue with which they'll have direct personal experience. Yes, this is the law, but this is something I use every day, and if I didn't have it, I would not be able to have the life I have. I would not have been a successful litigator or a successful in-house lawyer now. That message is always well received."
The work isn't just personally helpful; it gives Dean another connection with every person in his situation in the modern world.
---
The next round of housecleaning is imminent. Dean will fish the medal out of a closet and remember just what it feels like. Literally. At 19 ounces — the approximate weight of a 24-pack of AA batteries — it doesn't have to be seen to be appreciated. And then he'll flash back to the moment it was first placed around his neck.
"I remember thinking, 'Man, this thing is heavy,'" Dean said.
Consider it another burden handled with grace.
---
Jamie Dean received the A.J. Fletcher Law Scholarship, the Babcock Foundation Scholarships, the Judson Davie DeRamus Scholarship and the Lib and Joyner Burns Scholarship.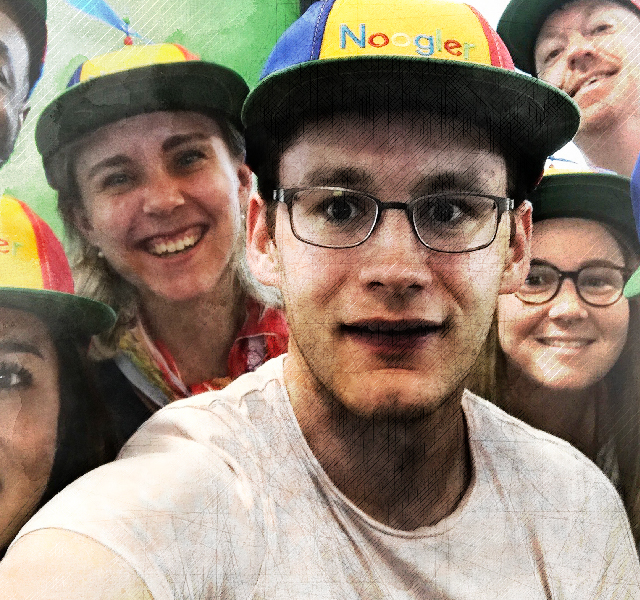 Joseph Belangia ('14)
"The best thing you can do is help and lend a hand of support. I like helping people." 
---