Constant and True
Wake Forest Giving Societies offer our friends, alumni and parents a way to pledge their lasting commitment to supporting the school they love. While all unrestricted giving supports deserving students and world-class faculty, your five-year financial commitment to a giving society provides the University with valuable security and consistency and the foundation it needs facing both challenge and opportunity.
Welcome to the place where the most loyal of Wake Foresters choose to hang their top hats. You're in great company.
"Pressing needs and shrinking windows of opportunity demand flexibility. Unrestricted giving provides Wake Forest with the advantage of applying funds where they are needed most, when they are needed most. It's one of the best gifts our University can receive."

Hof Milam ('76, MBA '91), Executive Vice President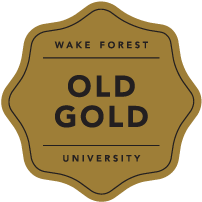 OLD GOLD SOCIETY
$50,000+ Annually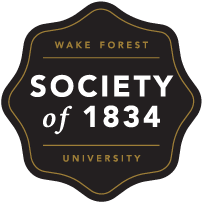 SOCIETY OF 1834
$25,000 – $49,999 Annually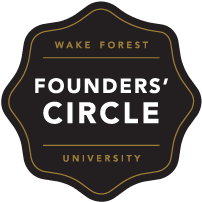 FOUNDERS' CIRCLE
$10,000 – $24,999 Annually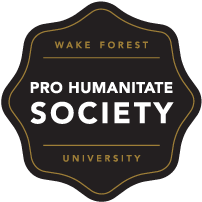 PRO HUMANITATE SOCIETY
$5,000 – $9,999 Annually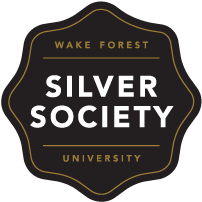 SILVER SOCIETY
$2,500 – $4,999 Annually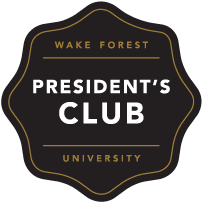 PRESIDENT'S CLUB
$1,000-$2,499 Annually.
$500-$999 Annually for undergraduate alumni within 10 years of graduation.
"There were so many parts of my Wake Forest experience that shaped the person I am today. A Giving Society membership felt like such a natural way to express my gratitude for my Wake Forest experience and show my Demon Deacon pride, all while making a difference in the lives of future students."
Hannah Duane ('16)
"As Wake Forest Giving Society members for nearly four decades, Stephanie and I are honored to continue our expression of loyalty, leadership and commitment to Wake Forest with our recently renewed membership. The unrestricted contributions of Giving Society members are essential in preparing today's Wake Forest students to honor the spirit of Pro Humanitate in their communities and the world."
Gerald ('80, JD'82) and
Stephanie ('81) Roach (P'09, P'12)
"Our commitment reflects our faith in Wake Forest's leadership and our desire to provide resources to continue to innovate and build on the many strengths that make Wake Forest such a special place."
Peter and Susan Brockway (P'09)

Our gratitude is unrivaled. Raising a glass of the finest to Wake Forest Giving Society donors has become an annual game day tradition.